Where you can see Georgie next

Film: Perfect Sisters Role: Beth Anderson Release: April 11, 2014 (limited) Site: Official || IMDb

Film: The Sisterhood of Night Role: Mary Warren Status: Completed Site: Official || IMDb

see full resume

Family


Elite














Top 01. 02. 03. 04. 05. 06. 07. 08. 09. 10. 11. 12. 13. 14. 15. 16. 17. 18. 19. 20. 21. 22. 23. 24. 25. 26. 27. 28. 29. 30. 31. 32. 33. 34. 35. 00. 00. 00. 00. 00. see more || apply
Pic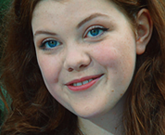 Quote"A lot of fans thought I had given up acting, but it is better to be picky and choose the right roles. Perfect Sisters was just the best experience." Poll




Keep all posts kind and clean!

Opened: December 24, 2008 Staff: Emma and Kaye Style: Maja and Willow Layout & Coding: Emma Hosted by: Starszz Hits: Online: Georgie fan(s)

see more

This site is not affiliated with nor do we claim to be Georgie, her family and friends, or agency. We do not own anything except the graphics, and no copyright infringment is ever intended. This is not Georgie's official site, it is only a fansite.